VINTAGE PETE SIERRA NAVAJO KINGMAN TURQUOISE CORNROWithCOBBLESTONE STERLING CUFF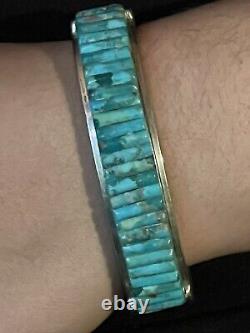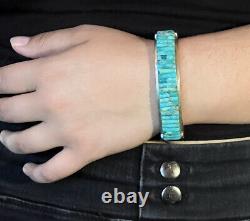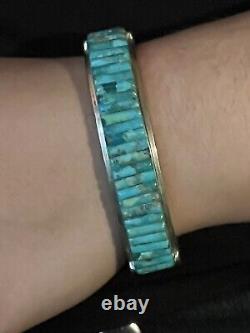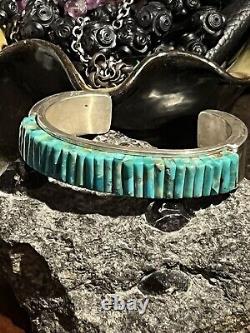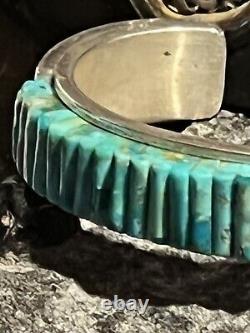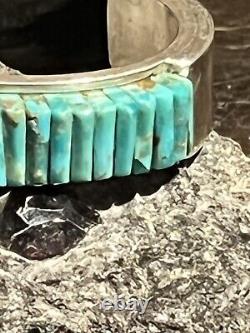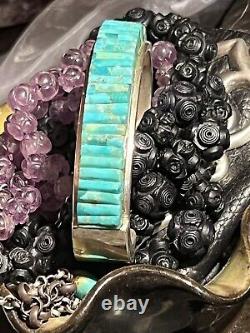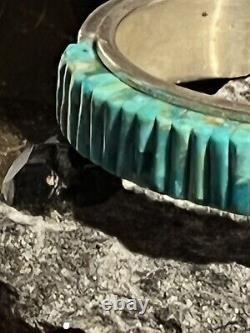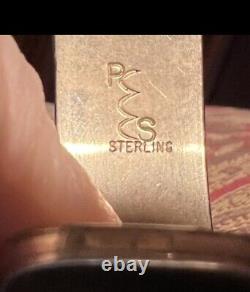 UP FOR SALE IS AN IMPORTANT & EXTREMELY CLASSY VINTAGE? KINGMAN TURQUOISE CORNROW/COBBLESTONE STERLING CUFF HANDMADE BY RENOUNED NAVAJO SILVERSMITH PETE SIERRA!
THIS IS A STURDY HEAVY CUFF WHICH WEIGHS IN AT JUST OVER 2 oz! THE CUFF WHICH, OVER THE YEARS, HAS ACQUIRED A BEAUTIFUL EVEN PATINA, HAS AN INNER CIRCUMFERENCE OF 6 3/4" (5 1/2" + 1 1/4") & THE BAND MEASURES 5/8" IN WIDTH.
THE PIECE BEARS THE DISTINCTIVE STAMP OF THE ARTIST ON THE INSIDE. PLEASE IF INTERESTED CHECK OUT THE PHOTO GALLERY & MESSAGE ME WITH ANY QUESTIONS! THANK YOU SO MUCH FOR LOOKING!
Pete Sierra is a Navajo artist who was a student of the famous Hopi artist Charles Loloma. Charles Loloma had hundreds of students, but Pete Sierra stands out among them. Pete Sierra was able to fashion something new with his silver inlay and high cobblestone turquoise jewelry. This was no small feat coming from the extraordinary amount of wonderful works that came from Charles Loloma. Yes, Pete certainly made his teacher proud! To understand Pete Sierra, it perhaps is good to first look at Charles Loloma. Loloma came from a family of various types of Native American artists such as basketmakers, carvers, ceramicists and jewelers. This artist worked with various mediums, but his mosaic jewelry has a strong influence on his student Pete Sierra. When Loloma died in 1991, his innovative styles were reflected in the work of his many students like Pete. Pete Sierra's contribution would come to be classified as the high cobblestone or inlaid overlay cornrow style. Setting stone against stone in a thick mosaic can be classified as inlaid overlay cornrow, or cobblestone. These are related but different techniques..
Pete Sierra is Navajo, and these techniques are usually seen today in Navajo stone work. Both methods have stones rounded or beveled along the edges, before being placed in their pattern. Cobblestone refers to pieces that are fitted perpendicular or angled to each other, and often vary in size.
They have beveled edges and resemble what is seen in cobblestone courtyards in some cities. A similar inlay pattern has rounded edges, and stone pieces all laid parallel like a corn cab. Pete Sierra's styles fall under the inlaid overlay corncob style, or high cobblestone, as was said. Pete Sierra's silver work, as well as his stonework, is quite beautiful.
The style of Pete Sierra is difficult to do, and has a stunning effect. Compared to the many jewelry works of Charles Loloma, the work of his student Pete Sierra has a look of its own. Pete has carved out a place of his own in the world of Native American art.
Charles Loloma had reason to be proud of this student of his! Sierra was a former student of Charles Loloma and is mentioned in Nancy Schiffer's book Jewelry by Southwest American Indians: Evolving Designs. Sierra's works are found in the Maxwell Museum of Anthropology as well as other museums, and he has been represented by many galleries worldwide.

---