V FINE VINTAGE NAVAJO 32 197.4gm DRUM/ BARREL BEAD & TURQUOISE NUGGET NECKLACE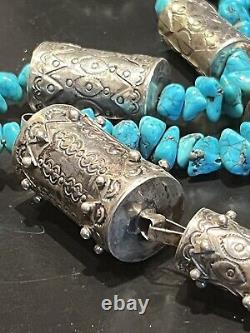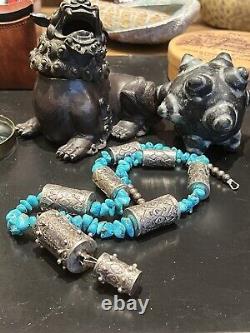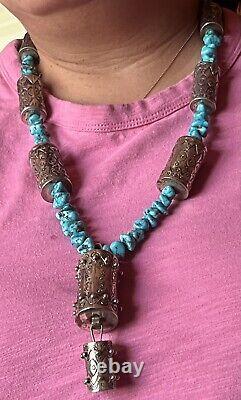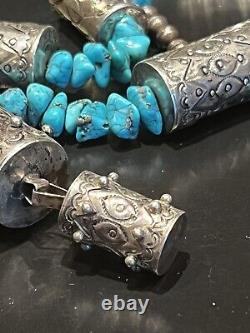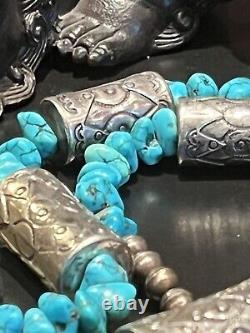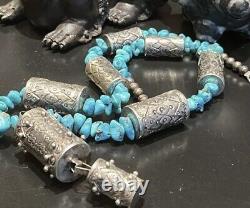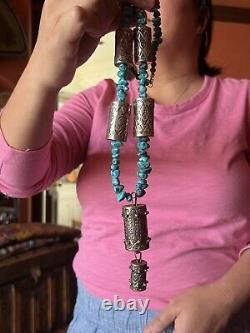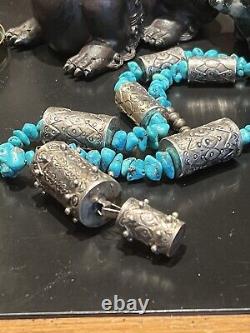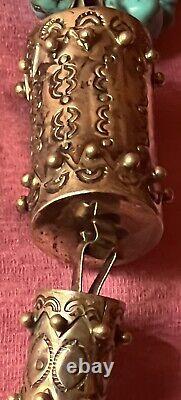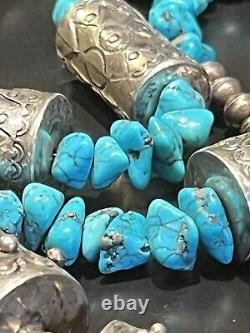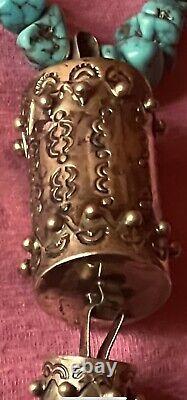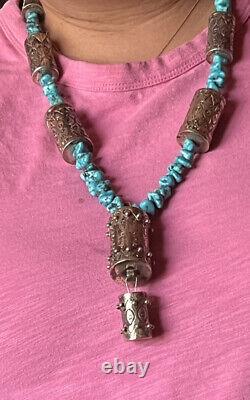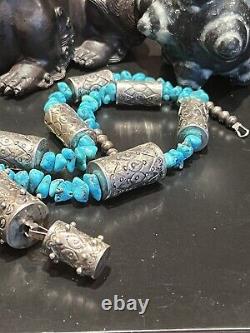 UP FOR SALE IS A VERY FINE & RARE VINTAGE NAVAJO 32 197.4g SS DRUM/ BARREL BEADS & TURQUOISE NUGGET NECKLACE. IT FEATURES 8 SUPREMELY WELL CRAFTED & GRADUATED DRUM BARREL BEADS WHICH HAVE TO BE SEEN TO BE BELIEVED & WHICH RANGE FROM 1 1/8" L x 5/8"D AT THE BACK OF THE NECKLACE THROUGH 1 3/4"L x 1"D AT THE CENTER FRONT. THIS LATTER BEAD IS ATTACHED TO A SMALLER ONE TO FORM THE PENDANT ITSELF WHICH IS 4 LONG! THE NECKLACE MEASURES 28" SO HAS A WEARABLE LENGTH OF 32" WHEN THE LENGTH OF THE PENDANT IS INCLUDED.
THE NECKLACE CLOSES WITH A HOOK & EYE CLASP & WEIGHS IN AT 6 1/2 oz!!! OTHER THAN DISPLAYING SOME PATCHY PATINA AS WOULD BE EXPECTED THE NECKLACE IS IN EXCELLENT GENERAL CONDITION.
THERE ARE NO CRACKS OR CHIPS IN THE STONES & THE METALWORK IS IN PERFECT SHAPE (NO DINGS OR SCRATCHES). I HAVE TRIED TO MAKE OUT A SIGNATURE BUT WHAT THERE IS IS FAINT & COVERED WITH TARNISH. I HAVE ELECTED NOT TO TOUCH IT! IT IS CLEAR THAT AN EXTREMELY SKILLED SILVERSMITH MADE THESE BEADS! THEY ARE OF MUSEUM QUALITY!
I'VE TAKEN LOTS OF PHOTOS SO PLEASE CHECK OUT THE PHOTO GALLERY & MESSAGE ME WITH ANY QUESTIONS. THANK YOU SO VERY MUCH FOR LOOKING!

---