10MM FLUTED HOGAN Navajo Necklace Bench Bead Pearl Vintage Sterling SAUCER 20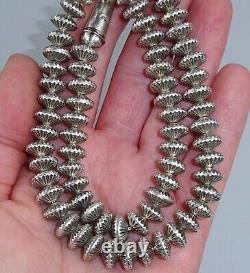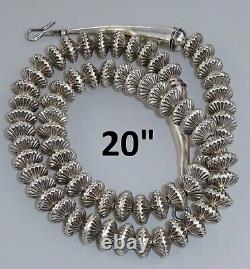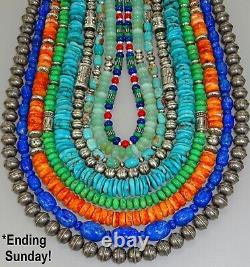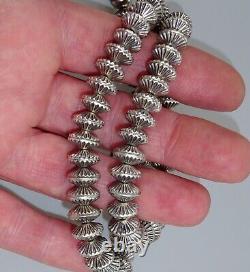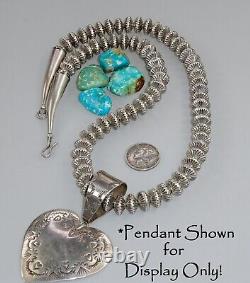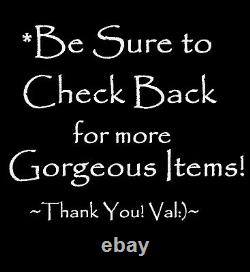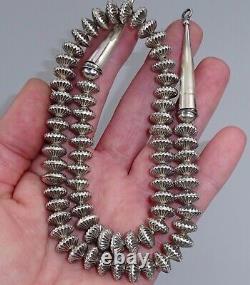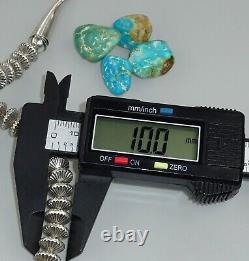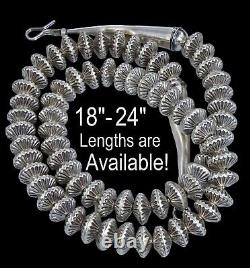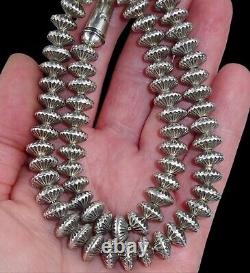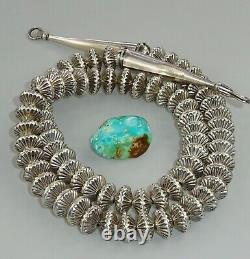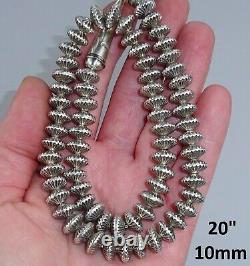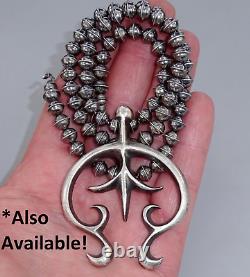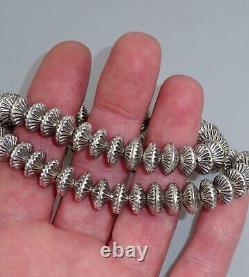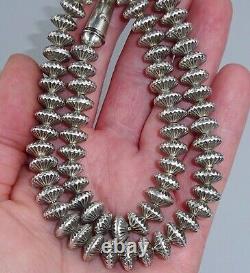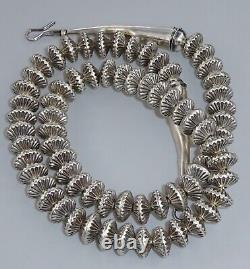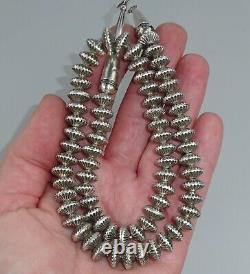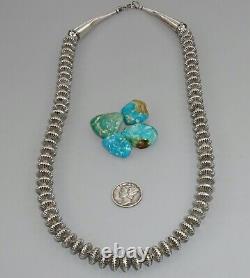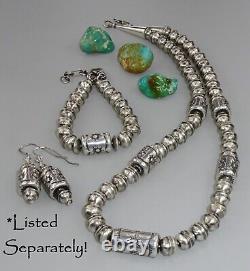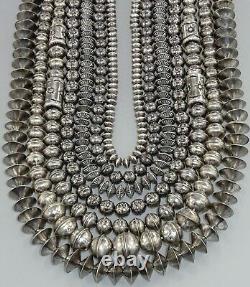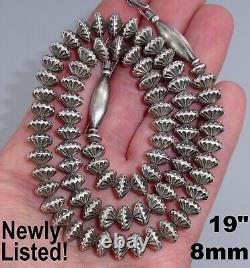 VIEW PHOTOS, Read DIMENSIONS, CONDITION, DETAILS, POLICIES. And ask ALL Questions of anything you may still have questions about. Lapis, Stamped Beads Cylinder Beads.
Spiny Oyster, Charm Bracelets, Bails & MORE! 20 SUPERB Genuine STERLING SILVER FLUTED HOGAN SAUCER Bench Bead Navajo Pearl NECKLACE on FOX-TAIL! This Necklace is an Original Navajo Hogan Bead design, made with gorgeous Sterling Navajo Beads and strung on Fox-tail for ultimate durability & flexibility. The Beautiful beads are what has made this Necklace one of my clients favorite designs over the past 20 years!
These Hogan Beads are heavier gauge than the more commonly seen Bench beads, and even just feel so good in your hand- AND especially when worn. Sleek, Curved Comfy cone ends near the clasp, but may be customized to better suit your needs, just message me!! This Necklace is beautiful, and the perfect Necklace to add to your Collection! Beautifully Hand made, and in Excellent Condition, this beauty is Gorgeous worn alone, with PENDANTS, or even LAYERED with other Necklaces- the choice is ALL YOURS!!
The Sterling has been Oxidized to a Warm, mellow Patina, displaying a bit of shimmer within darker areas, which allows it to easily blend with all your pieces of any age, slightly varying on each! FYI: If you would like one like this in a Longer different Length- just contact me.
The Necklace is beautifully & securely made, and Flexible. Genuine STERLING SILVER Navajo Saucer Beads strung onto Fox-Tail, with Traditional Navajo Pearl Beads, Curved Cone Ends, and Traditional Hook & Eye Clasp.
It truly is just beautiful, I love EVERY THING about it, especially the patina!!! PERFECT ALONE, LAYERED, and with or without Pendants! A PHENOMENAL Navajo Pearl FLUTED HOGAN SAUCER Necklace in a popular 20 Length, easily lengthened with any extender- and an absolutely wonderful addition to ANY Jewelry Collection!!
ALSO AVAILABLE in OTHER LENGTHS- so just message me if you have any questions!! DO NOT MISS OUT on this Handmade 20 Genuine Sterling FLUTED SAUCER BEAD Navajo Pearl Necklace, beginning at an unheard of. Please SEE MY OTHER ITEMS, too!! LOTS OF GREAT STUFF THIS WEEK! All Monitors, Tablets, & Mobile Devices Display differently. Since no 2 Monitors display the same, I have no way of knowing how YOUR devices Display the Color settings, nor the Levels of Brightness, depth, or vibrancy. I have gone to great lengths to accurately portray my items for almost 20 Years, but always expect some variation of Levels of Brightness and/or Color. I take photos using various Camera Settings, Backgrounds & types of Lighting. I never adjust color, I only straighten & crop photos so that you can more clearly see detail, etc. If you have any questions about this, please just send me a message! PLEASE READ LISTING INCLUDING TERMS, AND.
VIEW ALL PHOTOS THAT I PROVIDED FOR YOU! Unpaid Item Reports WILL be filed for all Payments OVER 4 Days Late that did not have Prior Approval. I ALWAYS POST THE MAXIMUM AMOUNT OF PHOTOS, SHOW IN MANY VARIOUS SHOTS, DO EXTENSIVE DESCRIPTIONS IN MY LISTINGS, & GIVE DETAILED DIMENSIONS. BECAUSE OF THIS, I FEEL THEY ARE DESCRIBED ACCURATELY, & WHAT, IF ANYTHING, I DO NOT DESCRIBE- THE PHOTOS CLEARLY SHOW THEMSELVES.
IF U NEED MORE INFO THAT IS NOT LISTED, JUST ASK! IF YOU NEED OTHER PHOTOS, JUST ASK, & I WILL TRY MY BEST TO ACCOMMODATE YOU. ANY OTHER DOUBTS- JUST SEE MY FEEDBACK, IT SPEAKS FOR ITSELF! MISREPRESENTATION DOES NOT INCLUDE BUYERS REMORSE, CHANGING YOUR MIND, WANTING TO TRADE-IN FOR A NEWER MODEL, YOU KEEPING IT FOR WEEKS AND WEARING IT TO ALL OF YOUR FUNCTIONS, THEN DECIDING YOU DO NOT WANT IT ANYMORE!
THE LENGTHS, WIDTHS AND WEIGHTS ARE GIVEN. LIGHTING AND MONITOR DIFFERENCES MAY MAKE AN ITEM APPEAR DIFFERENT TO YOU THAN PHOTOS, ITEMS USUALLY APPEAR LARGER ONLINE, AS WELL- but AGAIN, SIZES ARE GIVEN AND ITEMS SHOWN WITH OTHER ITEMS FOR SIZE REFERENCES IN MANY PHOTOS. ALSO- I WILL NOT SELL A ITEM WITH ANY ISSUES & NOT MENTION IT- THAT WOULD BE PRETTY DUMB SINCE I KNOW EVERYONE WOULD SEE IT WHEN THEY GET IT, ANYWAY- AND IF THERE ARE ISSUES WITH CONDITION OR DAMAGE, IT WILL ALWAYS BE LISTED IN THE CONDITION SECTION! IF YOU ARE THE TYPE THAT LIKES TO SEND THINGS BACK FOR NO REASON, PLEASE, BY ALL MEANS, KEEP MOVING...
PLEASE READ MY FEEDBACK AS A VALIDATION OF MY INTEGRITY.

---